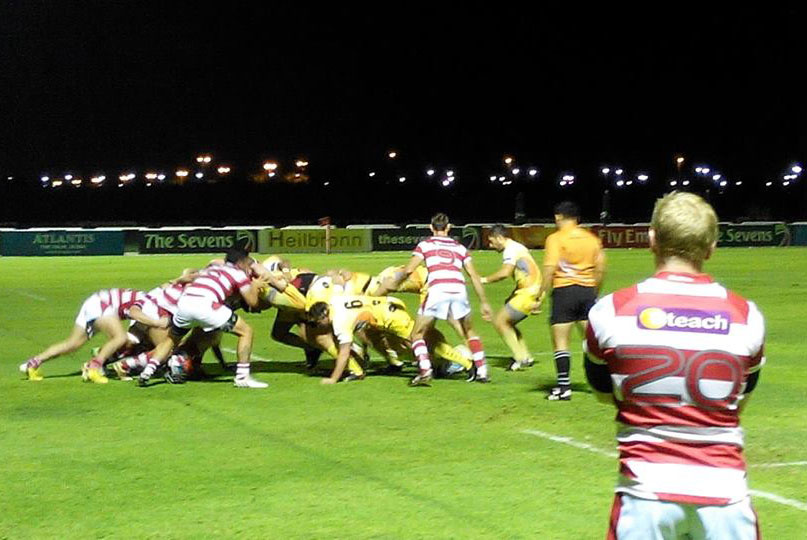 The Gulf Rugby Paper
Below is a recent posting on The Gulf Rugby Paper Facebook page. To see the original post click here.
Heartbeat Tigers will be in their second year of conference rugby this season, with other teams sure to keep a closer eye on this surprising team.
For a lot of last season the Tigers were second in the conference, with an undefeated record similar to Al Ain Amblers and it was well after the New Year before the two sides met.
Al Ain went on to win the conference and Tiger's struggled with injuries and player numbers, (an unfortunate consequence for new clubs) saw them drift away even from the top 3 spot.
The success of the Tigers men's team has often been attributed to their attitude to the game. Shane Thornton, who is again coaching the side, says "there is really great camaraderie and again we will just "see how this season goes." Like last season due to work and family commitments our team can change from week to week but all of us players do not mind this. Whoever takes the field plays to the best of their ability and results will take care of themselves. As every player we are all competitive and play to win and first and foremost want to enjoy it"
It is the almost casual and "what will be will be" attitude that seemed to lift the inhibitions of the players last season to produce some terrific attacking play that troubled so many teams.
Addressing the player numbers issue of last year Shane says "We have had a few new players join us as well, which is great and happy to have more".
The Women's will again be looking to build on their success. Last year's Dubai Sevens champions have a new and exciting coach at the helm.
Shane explains; "we are pleased to announce that Jonny Macdonald is taking on the head coaching role of Tiger Ladies this season".
Jonny was born and grew up in Abu Dhabi, played for the Arabian Gulf for four years before it disbanded. He played in three Asian 5 Nations tournaments, four Dubai Sevens and the 2009 Rugby Sevens World Cup in Dubai. Following the disbanding of the Gulf played in two tournaments for Scotland on the HSBC World Series. Sadly Jonny has had to now quit the game due to too many head knocks and concussions.
"I was lucky enough to coach Jonny in both sevens and fifteens for Arabian Gulf, Shane says, "and he is an extremely talented rugby player and I am looking forward to him being part of the Tigers".
We look forward to following the Tigers progress this season.
The Gulf Rugby Paper is an independent run news media for rugby in the Middle East, Arabian Gulf area. All the stories, results, news, features and plenty of pictures.